SOLAR FARM
LOCATION: RARITAN, NJ
CLIENT: ORTHO CLINICAL DIAGNOSTICS
MARKET SECTOR: ENERGY UTILITY
SIZE: 65 ACRES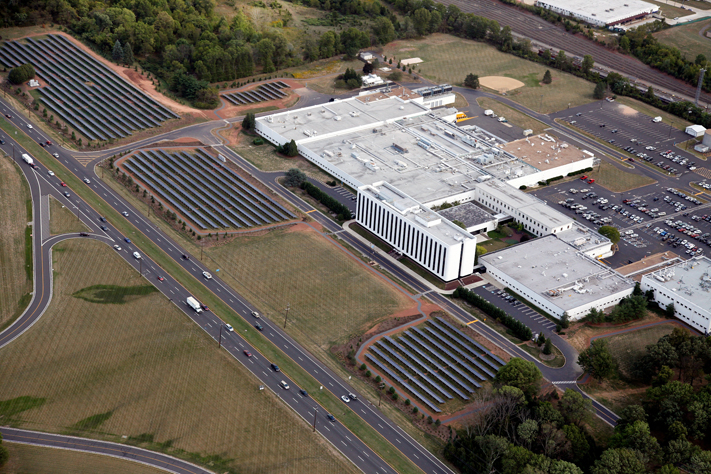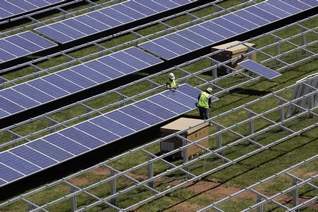 THE OPPORTUNITY
PS&S was engaged to provide Civil, Environmental, Electrical, Geotechnical, Survey and Structural Engineering services for a 1.7 MW Photovoltaic (PV) Solar Energy project for Ortho-Clinical Diagnostics (OCD), a Johnson & Johnson Company located in Raritan Township, Somerset County, New Jersey. PS&S teamed up with Sundurance Energy, a solar vendor, for the design coordination of system components and coordination of electrical routing and interconnection to the on-site infrastructure.
THE CHALLENGE
Challenges encountered during the project design and permitting phase included the need to 1) design a landscape buffer to aesthetically screen the solar arrays from Route 202 and adjacent properties, 2) minimize disturbance to the existing site, 3)evaluate and attenuate noise generated by the inverters, and 4) provide justification for required zoning variances.
THE PS&S SOLUTION
The PV solar arrays were located in four separate areas over approximately six acres of total area within front and side yards of an existing 65-acre office and manufacturing facility located along State Route 202 North. The 7,300 ground-mounted 20-degree-tilt fixed panels are expected to generate about 2,000,000 kWh per year and reduce carbon dioxide emissions by 1.600 tons annually. Taking advantage of the available incentives, the installation will provide a return on investment in six years while providing an average of 12% of the facility's total energy needs. Professional services provide for the project included boundary, topographic and wetlands surveys, complete civil/site engineering and landscape design, geotechnical engineering, environmental services, limited electrical and structural engineering services, and all regulatory permitting from Municipal, County and State authorities.
PS&S helped OCD achieve leadership in the New Jersey DEP's Environmental Stewardship Program by providing these engineering services for their Solar Energy Project. Environmental stewardship is achieved when businesses and other organizations go beyond what is required of them by laws and regulations to protect the environment innovatively and proactively.
RELATED PROJECTS
DISCIPLINES INVOLVED
CIVIL
ECOLOGICAL & PERMITTING
ENERGY & SUSTAINABILITY
GEOTECHNICAL
MEPF
STRUCTURAL