RED BULL STADIUM
LOCATION: HARRISON, NJ
CLIENT: RED BULL
MARKET SECTOR: HOSPITALITY
SIZE: 25,000 SEATS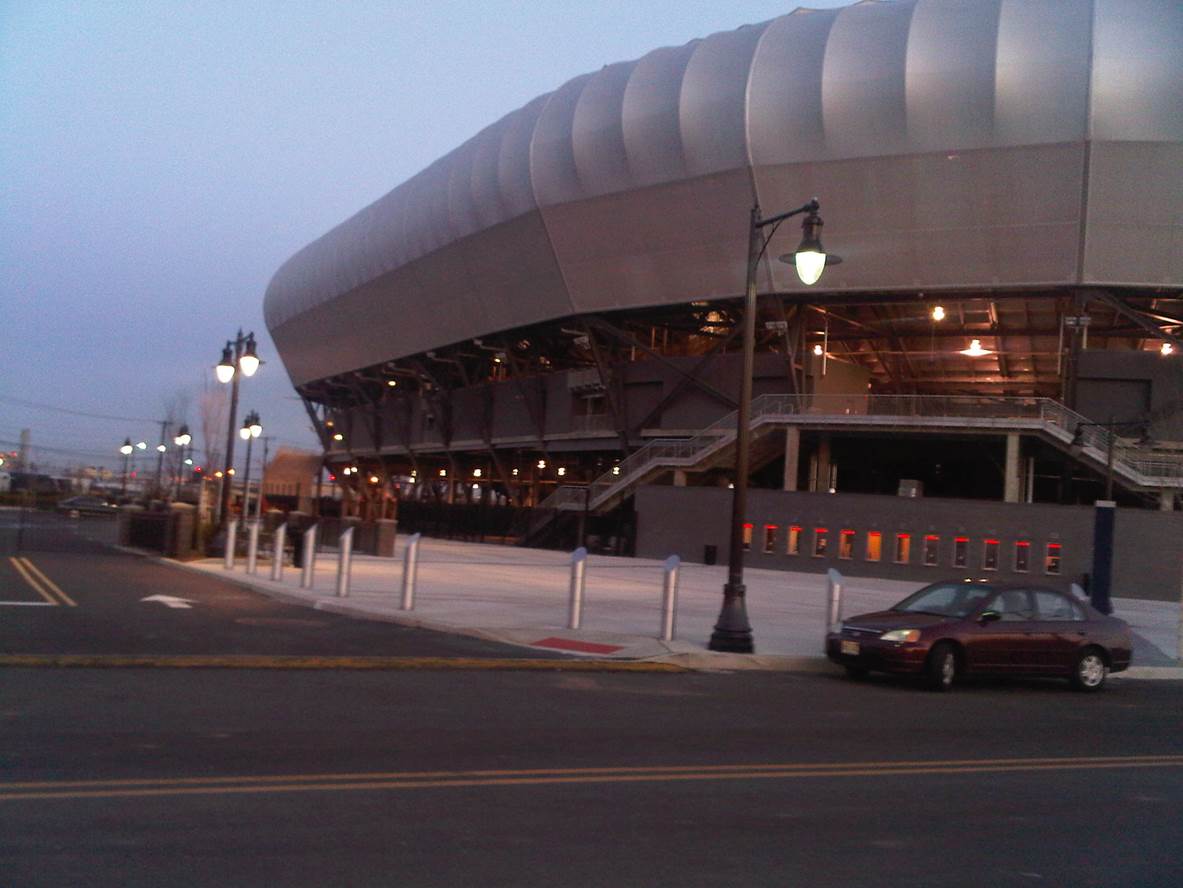 THE OPPORTUNITY
In response to the increased popularity of soccer in the United States, the Red Bull Organization embarked on the development of a world-class soccer stadium in Harrison, New Jersey. The location is adjacent to the Harrison PATH station, allowing easy access from New York City, Jersey City, Newark, and Hoboken by train and from major highways in the region. The project was also seen as a catalyst of future redevelopment in that region of Harrison.
THE CHALLENGE
The site was a brownfield that had been used for various industrial purposes in the past. The subsurface soil conditions were poor and the site contained numerous abandoned foundations and other obstructions. The stadium needed to contain 25,000 seats and the seats needed to be covered by a roof but the natural grass field required natural light to sustain itself. The stadium design consists of a lower and upper bowl of tiered seating, box seats, concession areas, and all of the support areas for the teams and team management.
THE PS&S SOLUTION
PS&S provided site civil and structural engineering for the project. The site is constrained and is covered mostly by the footprint of the stadium. PS&S civil engineers designed innovative solutions to the tight site, providing utility services, loading areas, plazas, and fences around the site. The entire stadium is supported on timber piles due to the poor soil conditions at the site.
PS&S structural engineers designed the state-of-the-art curved roof structure which consists of long cantilever trusses emanating from the back of the upper bowl, projecting over all of the seats and leaving an open doughnut hole in the middle for the grass field. Translucent panels were used for the roof covering to allow natural light to fill the entire stadium. The base of the roof trusses slopes down to support the upper tier of seating and the galleries and concession areas. Building Information Modeling (BIM) software was utilized to lay out and design the complicated framing for the superstructure framing of the building.
RELATED PROJECTS
DISCIPLINES INVOLVED
CIVIL
GEOTECHNICAL
STRUCTURAL
SURVEY & LASER SCANNING
WATER RESOURCES